A personal exploration on how to play the Game of Life!
A blueprint for how you make sense of the world, teaching you how to play your game of life more easily and successfully.
An easy training model to develop new perspectives and behaviours that expand your ability to be an effective human being.
Over 30 lectures and 2-3 hours of targeted video per month plus audios and PDFs will guide you through this program.
Content segments based on the 4 key components of your brain and helps you rewire yourself for better outcomes using brain plasticity.
This course is for you if you have: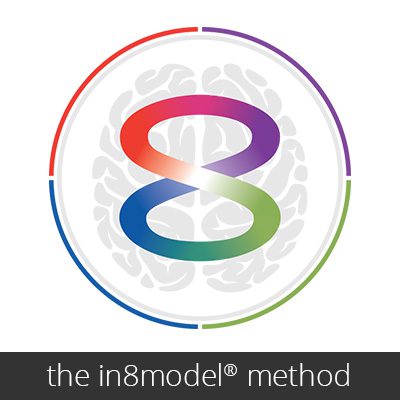 Been blocked or stopped by a limiting self image
Missed out on achieving goals or success in any area
Struggled to develop sustainable relationships
Found it hard to communicate effectively with others
Been challenged with managing or leading teams
If any of these ring a bell with you then The in8model® Method Education Training Program will be the missing link you are seeking.
Testimonials from the course
Mark seems to bring it all together and it just opens up your mind to feel the innate, optimal huge potential that is life with the in8model and playing that game!

Sam Parker
Loved learning that we can access "all parts" within us, we are not just 1, 2, 3 or 4 and understanding how the different quadrants support each other.

Janine Polkinghorne
Thanks Mark for such a concise yet well put together views of us humans in our society. Great tools for myself and others.

Ali Scott
This has given the ability to look at my values and what I can implement to make the changes to change the way to get me to my higher purpose. Thank you for opening my mind and heart to make change for the better.

Vivien Anderson